Expert in Early Education Since 1980!
Precious People of Worthington - Childcare and Development
Precious People of Worthington is a family owned preschool and day care center that is the expert in early childhood and development.. We are highly committed to serving the needs of working parents who entrust us with the care and wellbeing of their children. We are much more than babysitters. We employ highly trained childcare professionals who have dedicated themselves to providing the best child care possible. Each of our Worthington caregivers brings a passion for working with children which translates into each child receiving the best possible care.
When you come to our daycare, you will find that Precious People of Worthington offers an age-specific development program for each class from infant through school age. We use the best day care curriculum available and take a holistic approach to stimulate the emotional, physical, and intellectual development of the children we care for. We participate in the USDA food program which helps to provide the very best nutritious meals for our students. Our center also offers Title XX funding to families who qualify.
Our facility has daycare and child care programs designed for infants, toddlers, preschoolers and school age children.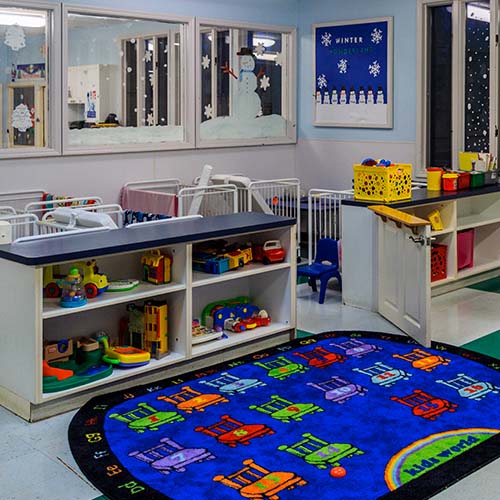 Precious People of Worthington's Philosophy
We recognize that every child is unique and has different needs. We also believe that education should be a positive experience. Therefore we seek to provide a loving, positive, and secure environment in Worthington Ohio that will foster a strong desire to learn among the children we care for.
Precious People of Worthington's Purpose
Our school's purpose is to do the best job possible of meeting the needs of both the parents and the children. Our goal is to provide a secure and loving environment for every child, blended with an academic program, to help the child develop and grow intellectually.
Infant
We really love babies and strive hard to provide much more than just "custodial" care. We proudly provide our babies with a complete developmental infant care program in Worthington Ohio.
Toddler
Toddlers are very interesting, busy little people and they find a sense of wonder and joy in virtually everything they experience. We have a wonderful toddler carel program for your toddler in Worthington Ohio.
Preschooler
Two-year olds are delightful and curious. Around two years of age children are showing signs of wanting to grow up and be independent little people. We encourage all preschoolers to explore their curiosity and we provide a curriculum designed to stimulate intellectual development.
School Age
We have cared for many of our school-age kids since they were infants. We work very hard to constantly develop and revise a program to meet the needs of our children in Worthington Ohio.
Contact Precious People of Worthington
"*" indicates required fields
Directions to Our Day Care
About Worthington Ohio
Worthington Ohio has a population of 13,837 with 5.45% being children under the age of 5. Parents in Worthington are often working adults who need a child care center for their children. The Learning Center offers preschool, daycare, toddler care and infant care services in Worthington OH.
Testimonials
Precious People of Worthington
Average rating:
2 reviews
Anna Z. Via Yelp - Worthington Ohio
Sep 22, 2016
First to Review - Worthington Ohio Daycare
I've tried several daycares for my children, but this happened to be the best out of all of them in the area. The staff are more then friendly, the place is very clean and the owners of the place are very hands-on. They're willing to work with you, if you have any issues. I recommend this place!!
Karen P. Via MapQuest in Worthington Ohio
Jun 13, 2016
Worthington Preschool and Daycare Review
This site has gone thru a recent owner/director change and even though my son was happy with the past staff, they did have some administrative issues. The new director and staff really seem to be attentive to detail and got it fixed right away. Highly recommended!
Preschool in Worthington, OH
We believe that children come into the world with natural curiosities, talents and interests. Our preschool exist to create learning experiences that ignite passion, and cultivate creativity by honoring each child's unique gifts. Our preschool program encourages children to be confident, empowered learners.
Precious people of Worthington has operated unique, quality preschool programs since 1980. At our Worthington, Ohio preschool, we empower children to believe the world is full of endless possibilities, create environments that nurture wonder, and provide a safe, supported, preschool experience for your child.
Daycare in Worthington, OH
Choosing a daycare is not an easy task. Where you take your child to be cared for during the day is one of the most important decisions you can make as a working parent. When you choose a daycare, you should choose one that has a good reputation. Precious People of Worthington is a daycare that provides the peace of mind that your children are in good hands. Contact us today and schedule a tour of our daycare (614) 891-4105.
Child Care in Worthington, OH
We understand, that as a working parent with school aged children, you will always be concerned for their safety and well being. Our child care center is a place where your child can complete their homework, so you can spend quality time with them after work. Our child care center is a structured environment where your child can have independence and also have fun.