Expert in Early Education Since 1980!
The Westerville Learning Center - Childcare and Development
Founded in 1980, the Westerville Learning Center is a family owned day care center that is the expert in early childhood and development.. We are highly committed to serving the needs of working parents who entrust us with the care and wellbeing of their children. We are much more than babysitters. We employ highly trained childcare professionals who have dedicated themselves to providing the best childcare possible. Each of our Westerville caregivers brings a passion for working with children which translates into each child receiving the best possible care.
Serving Huber Village, Westerville, Minerva Park, and Blendon Woods. The Westerville Learning Center offers an age-specific development program for each class from infant through school age. We use the best day care curriculum available and take a holistic approach to stimulate the emotional, physical, and intellectual development of the children we care for. We participate in the USDA food program which helps to provide the very best nutritious meals for our students. Our center also offers Title XX funding to families who qualify.
Our facility has daycare and child care programs designed for infants, toddlers, preschoolers and school age children.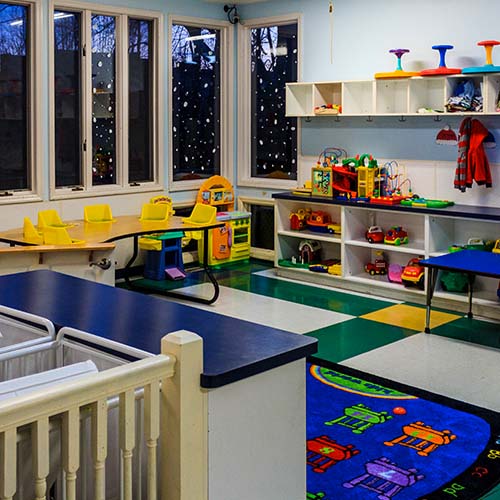 The Learning Center of Westerville has fun daycare classrooms for infants, toddlers and preschoolers
Meet the Westerville Learning Center's Director
Athari Abushaqra
has been the director of Westerville Learning Center for 2 years and has over 7 years of experience working with children. She has a CDA and degree in psychology. Athari is 31 years old and is married to a lovely husband and has three wonderful kids, ages 6, 5 and 3. She is very passionate about what she does. Even before she had children of her own, she always loved babysitting her nieces and nephews and helping them with their homework. So when she had children of her own, it really gave her a passion to start something in the field of childcare. Now she is the director of the
Westerville Learning Center
and loves what she does every day!
The Westerville Learning Center Philosophy
We recognize that every child is unique and has different needs. We also believe that education should be a positive experience. Therefore we seek to provide a loving, positive, and secure environment that will foster a strong desire to learn among the children we care for.
The Westerville Learning Center Purpose
Our school's purpose is to do the best job possible of meeting the needs of both the parents and the children. Our goal is to provide a secure and loving environment for every child, blended with an academic program, to help the child develop and grow intellectually.
Contact The Westerville Learning Center
"*" indicates required fields
Directions to Our Daycare
About Westerville Ohio
Westerville Ohio has a population of 37,530 with 2138 being children under the age of 5. Parents in Westerville are often working adults who need a child care center for their children. The Learning Center offers preschool, daycare, toddler care and infant care services in Westerville OH. Contact us today and enroll in one of our daycare programs.
Testimonials
The Learning Center of Westerville
Average rating:
2 reviews
Sep 22, 2016
Westerville Daycare and Preschool Review
It really doesn't look like much on the outside compared to La Pettite or KinderCare, and it is difficult to find - so we almost passed this school up - but I was very pleased with my experience here. My two children (infant room and 3-year-old room) spent 8 months at The Learning Center and loved their teachers. The infant room the formula and wipes were provided, the teachers were especially nice, offered us "abandoned" clothes, and my daughter loved her care taker. My 3-year-old really learned a lot, including his numbers (in order, before they were random), alphabet, days of the week, and months - he also learned some very cute songs that I hadn't heard before. Their price is very reasonable too if you're paying out of pocket.
Rachelle F. Via Yelp in Westerville Ohio
Sep 15, 2015
Daycare and Preschool in Westerville Ohio
We just started taking our 3 1/2-year and our 22-month-old daughters to the Learning Center. The price is very affordable and the staff is friendly. The building and playground are not spectacular, but my girls are learning and having fun each day and that is what really matters. In the short time that my 3 1/2-year-old has been going, she has learned a lot. Every day she surprises me with something new and I am incredibly grateful the staff is taking good care of my girls. The meals are better than what we have previously experienced with another daycare. I would recommend the Westerville Learning Center to other parents who are searching for quality affordable daycare!
Preschool in Westerville OH
We believe that children come into the world with natural curiosities, talents and interests. Our preschool exist to create learning experiences that ignite passion, and cultivate creativity by honoring each child's unique gifts. Our preschool program encourages children to be confident, empowered learners.
The Learning Center has operated unique, quality preschool programs since 1980. At The Learning Center preschool, we empower children to believe the world is full of endless possibilities, create environments that nurture wonder, and provide a safe, supported, preschool experience for your child.
Daycare in Westerville OH
Choosing a daycare is not an easy task. Where you take your child to be cared for during the day is one of the most important decisions you can make as a working parent. When you choose a daycare, you should choose one that has a good reputation. The Learning Center is a daycare that provides the peace of mind that your children are in good hands. Contact us today and schedule a tour of our daycare (614) 891-4105.
Child Care in Westerville OH
We understand, that as a working parent with school aged children, you will always be concerned for their safety and well being. Our child care center is a place where your child can complete their homework, so you can spend quality time with them after work. Our child care center is a structured environment where your child can have independence and also have fun.